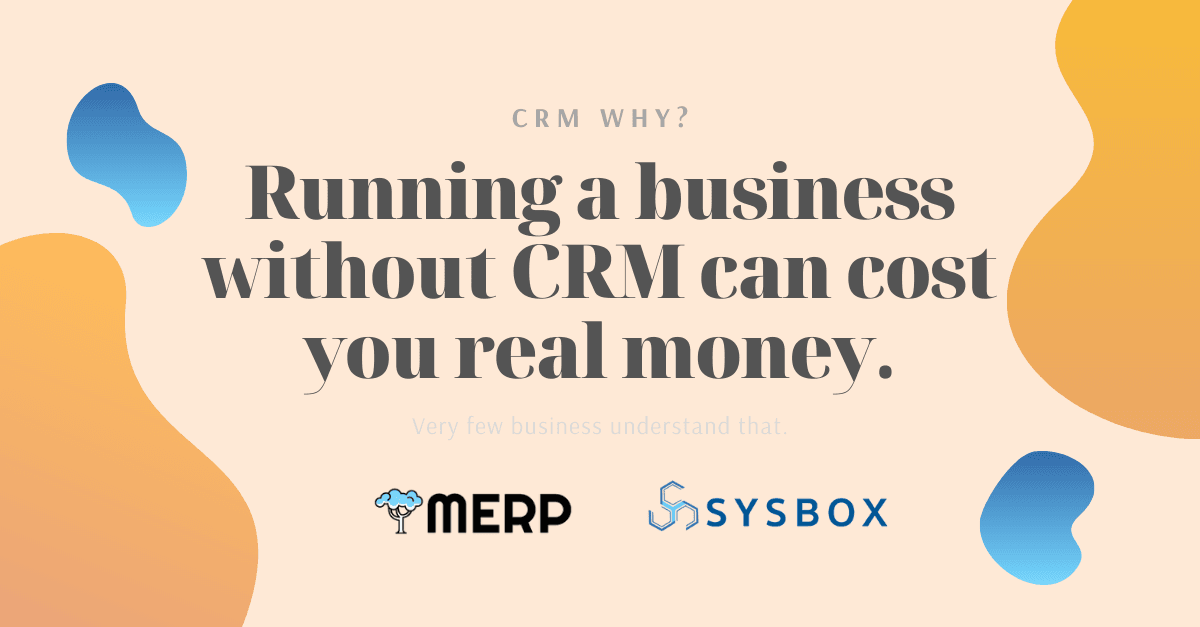 13 Dec

CRM: Running a business without CRM can cost you real money.

CRM stands for customer relationship managment. Majority of the SME's never understand the need for having a CRM system helping them maintanence the relationship between them and their customers. Instead of using a management system, they use more human. It all sounds warm and fuzzy, beucause *customer* likes to talk to human.

However, when business goes bigger, then more sales and administrative personnel wil be hired. More administration means less time for everything else. An active sales team can generate a flood of data. Reps are out on the road talking to customers, meeting prospects, and finding out valuable information – but all too often this information gets stored in handwritten notes, laptops, or inside the heads of your salespeople.

Nowadays, your customers can approach you in so many ways and some of them you proabably never met before, and some of them they don't even want to meet you :0 In these cases, your salespeople will never know who they are, how can you keep up the details of those customers!

CRM is not just keep you a database of your customers/clients, it's also about to maintanence the relationship.
It will help you understand the customer, and customers' backgrounds and needs. Your customers may be contacting you on a range of different platforms including phone, email, or social media — asking questions, following up on orders, or contacting you about an issue. Without a common platform for customer interactions, communications can be missed or lost in the flood of information — leading to a slow or unsatisfactory response.
This will eventually cost your sales to be lost and therefore it will cost you real money!
Imagine when a customer called, then your sales can even call his/her name straight away before start a conversation? how connect that it is! Not even mentioned, the sales will know how important this customer is to your business.
Here's how a CRM system can help your business today:
MAKE IMPROVEMENTS TO YOUR BOTTOM LINE.

IDENTIFY AND CATEGORISE LEADS.

INCREASE REFERRALS FROM EXISTING CUSTOMERS.

OFFER BETTER CUSTOMER SUPPORT.

IMPROVE PRODUCTS AND SERVICES.
As of MERP's CRM module, we thought about the most important thing of your CRM functionalities and try to provided the best of them.